This pre-panelised and fully load-bearing system is ideal for construction projects developing low to medium rise structures.
The HadleyFRAME offsite pre-panelised system is extremely popular across a range of construction sectors including Residential Apartments (both private and build to rent), Student Accommodation, Hotels, Education and Healthcare, particularly in Nursing Homes.
The Lichfield's Bonds retirement living development for Pegasus Life is in the heart of a vibrant cathedral city. Constructing three apartment blocks on the compact site, nestled against local residents and businesses, required a considerate program design.
Designed to be installed off a structural concrete slab or transfer structure; the high strength to weight ratio and relative weight saving in the system means it can also be used on top of your existing buildings.
The system mainly consists of a series of line loads, with a few point loads – subject to the amount of hot rolled steel that needs to be introduced to your system.
We can supply you with sample line loads at early design stages so you're able to take advantage of the load reduction in the system. In general, you could be saving 20-25% in weight compared to traditional methods of construction.
COST REDUCTION AND RELIABILITY
Off-site prefabrication reduces on-site time and labour costs
Reduction of waste being removed from site
Minimised costly weather delays
Time on-site is greatly decreased meaning reduced prelims
Overall reduction in risk to the builder and client
Detailed design process identifies and resolves issues prior to commencement on-site
Off-site prefabricated panels
Install speed of 10-15 days per floor
Stairs and lift shafts constructed as building progresses floor by floor
Shorter build programme with a 40% reduction in build time compared to traditional blockwork
A rapid dry envelope is created, allowing follow-on trades to commence sooner
Reduction in the number of wet-trades on-site
Multiple architectural features can be incorporated
Optional cantilevered balconies
Ability to install walkways
Construct stairs and lift cores
Bathroom pods and plasterboard packs can be loaded floor-by-floor
Brickwork support
Optimisation of panel sizes to suit site logistics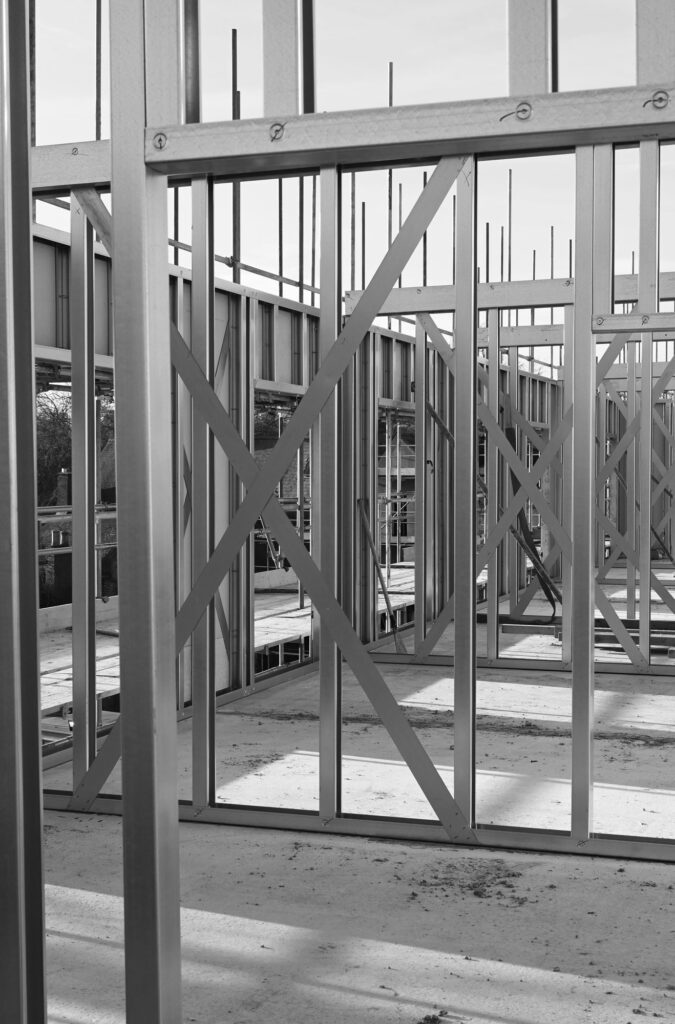 Discuss your project needs today
Contact our specialists today to find out how we can work together on your project needs.
Your project will be handled by our in-house design engineers who have decades of experience in LGSF and utlise Tekla 3D detailing software linked to our manufacturing facility. All hot-rolled steel is design in-house and our system has a comprehensive technical manual of both fire and acoustic data.
With Sustainable Development a key aspect of current tender process, your project will be delivered under internationally recognised production standards, ensuring your clients needs:
ISO14001 Environmental management system
BES6001 Responsible source of products ISO9001
Gold Level Member of the BCSA Sustainability Charter