Tooling
Work with our industry-leading engineers to design, test, and build the precise tooling you need for your metal roll-forming production line
Customised Tooling with Simulated Designs 
Optimise your designs at an early stage 

Get a team of expert engineers to simulate and test your roll-forming tooling — with the latest in 3D CAD software.  

Reduce your risk with prototype tooling 

Save time and money with our proprietary 'soft tooling' technology — so you can test complex profiles before you commit to production. 
 

Get access to 24/7 tool servicing at our world-class Hadley production sites — with in-house engineers ready for every situation. 
Several hundred years of tooling expertise is contained within our tooling engineering team – comprising of multiple home-grown roll and press tooling designers. Matched only by the experience levels of our very own tooling manufacturing and servicing teams.
Watch our video on tooling design at Hadley
Watch now
Since its inception, The Hadley Group, through Hadley Group Technology, has always been fully self-sufficient when it comes to the design and development of tooling.
This is further complemented by a dedicated tooling design team in The Netherlands, who specialise in intricate automotive roll form tooling design.
Highly specialised tool steels are used in the manufacture of all our precision press tooling components, coupled with carefully controlled heat treatment to optimise the performance of every single individual part. This guarantees maximum longevity and optimal performance of our tooling within production.
Many areas in which you can benefit include structural design calculations, material evaluation and product specifications – in addition to the integration of existing process technologies and the development of new ideas.
Techniques used to develop products and processes include:
Theoretical evaluation
Geometric profile optimisation
Computer simulation
Rapid prototyping
Physical testing
Metallurgical analysis
Process capability studies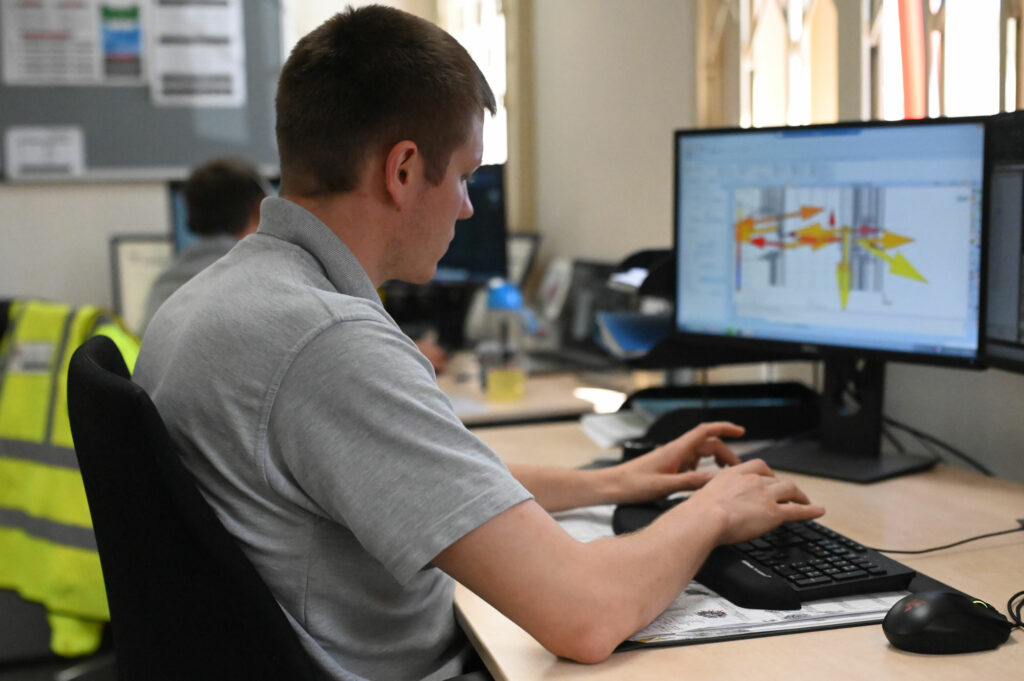 All our tooling design work is carried out using the latest hardware and 3D CAD software.

This includes state of the art non-linear simulation technology – used to optimise design and predict forming defects before any tool steel is cut.
Mirroring this in manufacture, the latest CAM software and toolpath technologies are coupled with state-of-the-art CNC machinery used to manufacture 100% of our in-house designed tooling. Allowing our experts full control of the quality and lead times of our tooling, to the highest degree of accuracy.

HGT have a fully dedicated pre-pierced production line – reserved solely for the commissioning and development of tooling. Our 'first-off inspection', followed by customer approval, complete the process. First-off tooling trials with 'initial process capability' can also be conducted by our experts.

All tool setting documentation and work instructions are defined by highly skilled multi-shift commissioning engineers with over 85 years' experience between them.

Our commissioning line is equipped with in-house proprietary technology to cut flexible hole patterns with 'soft tooling'. This is a one-of-a-kind roll forming line, which enables our customer to prototype complex pierced profiles without the need to invest in press tooling.

All Hadley production sites have localised tool servicing capabilities – we provide 24/7 cover to ensure rapid tool changeovers, planned servicing and emergency repair is dealt with in-house, thereby ensuring maximum productivity and rapid turnaround of our customers' orders.
Speak to our Custom Roll Forming experts today
Your project enquiry will be handled by our Custom Roll Forming team. They will work with you to understand what kind of cold rolled profile you need, as well as your wider project goals such as sustainable production and responsibly sourced steel.
Interested in tooling design?
Our in-house expertise in tooling design spans generations.
Steve Oldhams, Technical Fellow, talks here about the origins of tooling design with Sam explaining the way things are done now.