Load Bearing Off-site Pre-Panelised Bolted Structures – A complete in-house solution from concept through to on-site completion.
The external walls are provided as panels made from 100mm galvanized steel studs, generally at 600mm centres (the gauge of steel for the studs varies with loads). The external wall panels arrive on-site preboarded with an external sheathing board. The standard supplied is 12mm calcium silicate board due to its performance – other options are available depending on your performance requirements.
Internal load-bearing wall panels are included in the design for maximum manufacturing efficiencies. They are panelised with 100mm studs but do not include any linings. However, plasterboard will be needed to protect the structure against fire and acoustics requirements. We aim to keep spans between load-bearing walls to a minimum and to avoid unnecessary project costs, non-structural walls are not included. All walls included in the project are shown on our initial scheme, and then within the full design.
The light gauge steel panels are also used to form the lift shaft and stair core. The lift shaft is designed to the lift manufacturer's details; we include a lifting beam in the design (testing by others), and plates or rails to take the lifting gear. Stairs are also included; these are hot rolled steel with the stair pans infilled with either screed or dry screed board.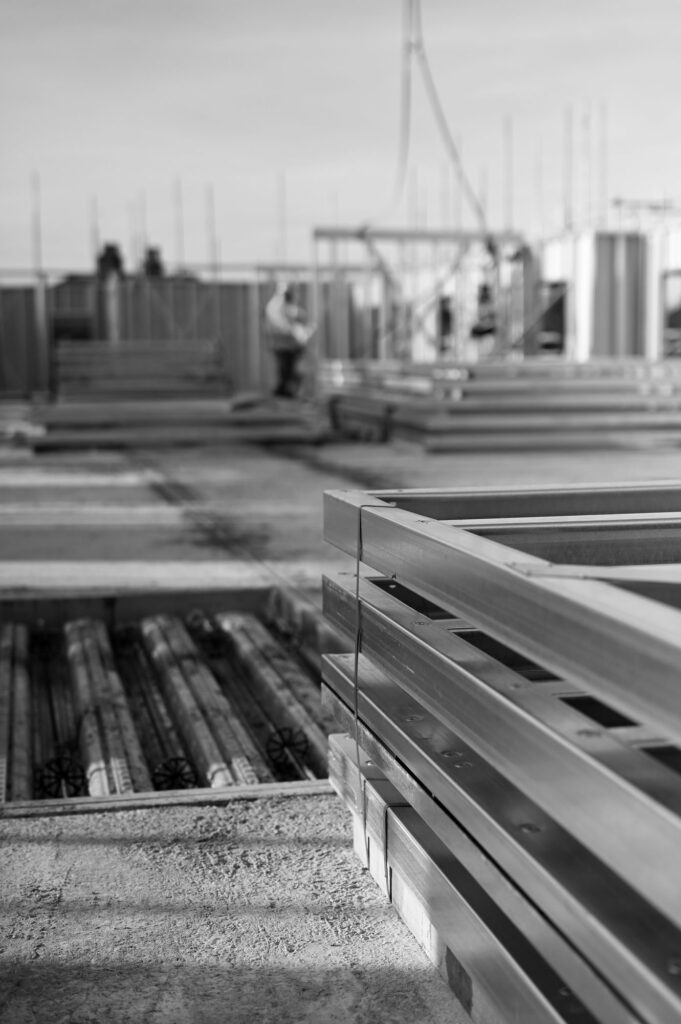 Stability for the system is looked at structurally as a whole. It is achieved by distributing bracing throughout the wall panels (rather than using hot rolled braced bays or relying on the core as you would with other construction methods). Most internal and external walls include bracing which is a 1.5mm flat strap used as a cross brace to the face of the panel.
The standard supplied for intermediate floors is a 150mm composite concrete deck for greater fire and acoustic performance. Larger spans or loads could require a build-up to suit unique design requirements.
A joisted cassette is an alternative intermediate floor option, relying on linings to meet performance requirements but offering a lightweight solution. This is generally formed using 200mm galvanised steel joists (similar to a wall panel), and includes an 18mm ply-deck for stability and access.
The included roof is a 200mm joisted cassette, where the properties of a composite slab are not generally required at roof level, therefore reducing weight. A composite concrete deck can be included at roof level if required, for items such as high loadings from plant and machinery.
A flat roof is the simplest and cheapest option with any falls made in the finish, alternatively falls can be designed into our system. With additional hot rolled steel, we can supply a traditional pitched roof or advise on a timber truss to reduce costs.
An amount of hot rolled steel will be required within the structure and is included in our design and supply. Keeping this to a minimum offers the greatest benefit to the final cost of the system. Balconies can also be designed and supplied with our system – as the hot rolled structure or as a finished balcony supplied to site.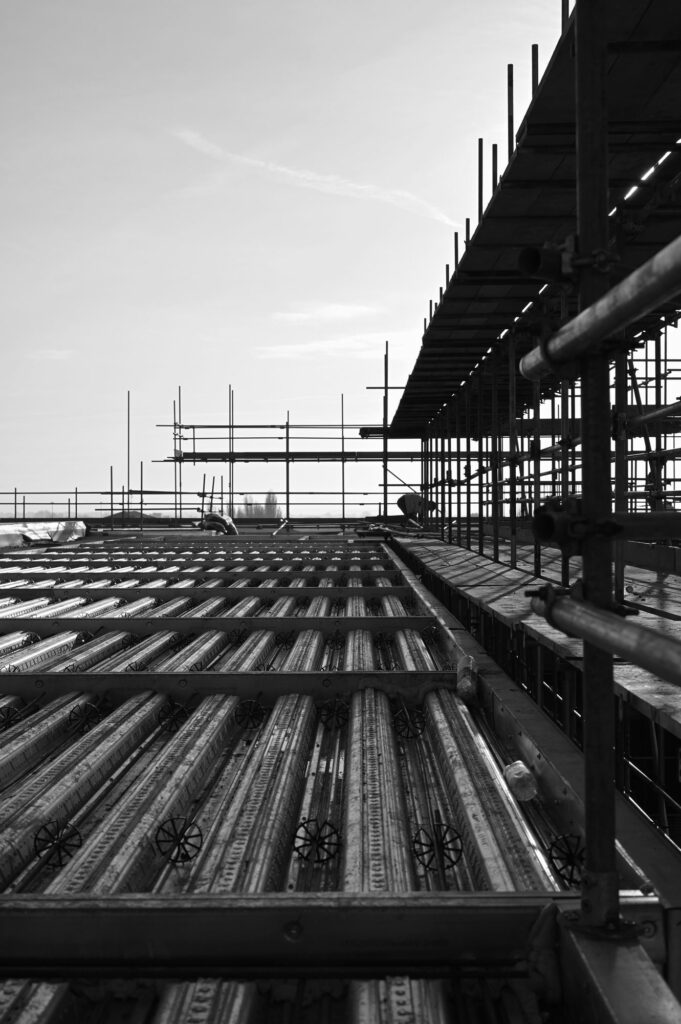 Discuss your project needs today
Contact our specialists today to find out how we can work together on your project needs.
Full detailing and design are included by our expert in-house teams; and IFC models are provided during the design for easy co-ordination with other trades. We have our own structural engineers who can provide early engineering guidance and assist with foundation designs.
Installation details are included within our tender. Alternatively, we work with a range of installers who work with our system and can provide a quote directly.
The system is reliant on the use of a crane to lift the panels into place – usage being approximately 95% of the installation. We can provide a quote for the crane; consolidating the supply of the crane and the system will ensure enhanced communication and control on-site.
Program is a big advantage of this type of structure. 1 gang can be used with 1 crane, 2 gangs would need 2 cranes etc. The size of 1 gang is typically 5 operatives and they will install between 750m2 – 1000m2 (GIFA) of structure in around 10 working days depending on the complexity of the structure and number of items.
A complex structure may have a lot of hot rolled elements or small panel sizes which increases installation time. A gang will install around 25 – 35 items per day but if panel sizes are reduced to 3m from 7.5m then production will be significantly lower due to double the amount of lifts.