HadleyFRAME.
Building Performance.
Many architects have always designed for offsite systems, using pre-panelised as a flexible solution that suits a wide array of sites, requirements and project aims. With market expectations and building regulations evolving, we are often asked about building performance when using a steel frame superstructure.
Of course, it does depend on a number of factors related to the finish of the building when targeting specific airtightness and acoustic performance results. The Hadley Construction Technology (HCT) team are on hand to help you achieve premium building performance with expert advice and guidance.
As part of HCT's product innovation, they built a test house at our Smethwick facility and commissioned testing for airtightness and acoustic performance. The results where excellent and demonstrate what can be achieved with HadleyFRAME.
Airtightness result was 1.24m3/hr/m2
*Part L residential target is less than 5m3/hr/m2.
| | | | | |
| --- | --- | --- | --- | --- |
| Test | Wall / Floor Type | Min. Target | Result | Pass/Fail by |
| 101673 | Internal separating wall [HF-IW-TWT02] | 45dB DnT,w + Ctr | 62dB DnT,w + Ctr | Pass by +17dB |
| 101674 | Internal separating wall [HF-IW-TWT04] | 45dB DnT,w + Ctr | 57dB DnT,w + Ctr | Pass by +12dB |
| 105434 | Internal separating floor [HF-IF-FT01] | 45dB DnT,w + Ctr | 57dB DnT,w + Ctr | Pass by +12dB |
| 105436 | Internal separating floor [HF-IF-FT01] | 62dB L'nT,w + Ctr | 49dB L'nT,w + Ctr | Pass by +13dB |
HF-IW-TWT02: 2x 15mm Gyproc Soundbloc; HadleyWRAPTITE integral; Hadley ResBar; 100mm HadleyFRAME; 100mm Glass Mineral Wool; HadleyResBar 2x 15mm Gyproc Soundbloc
HF-IW-TWT04: 2x 15mm Gyproc Soundbloc; HadleyWRAPTITE integral; 100mm HadleyFRAME; 100mm Glass Mineral Wool; 2x 15mm Gyproc Soundbloc; 50mm HadleyLINE studs; 50mm Glass Mineral Wool; 15mm Gyproc Soundbloc.
HF-IF-FT01: 120mm Compound slab with Cellecta YELOfon HD10+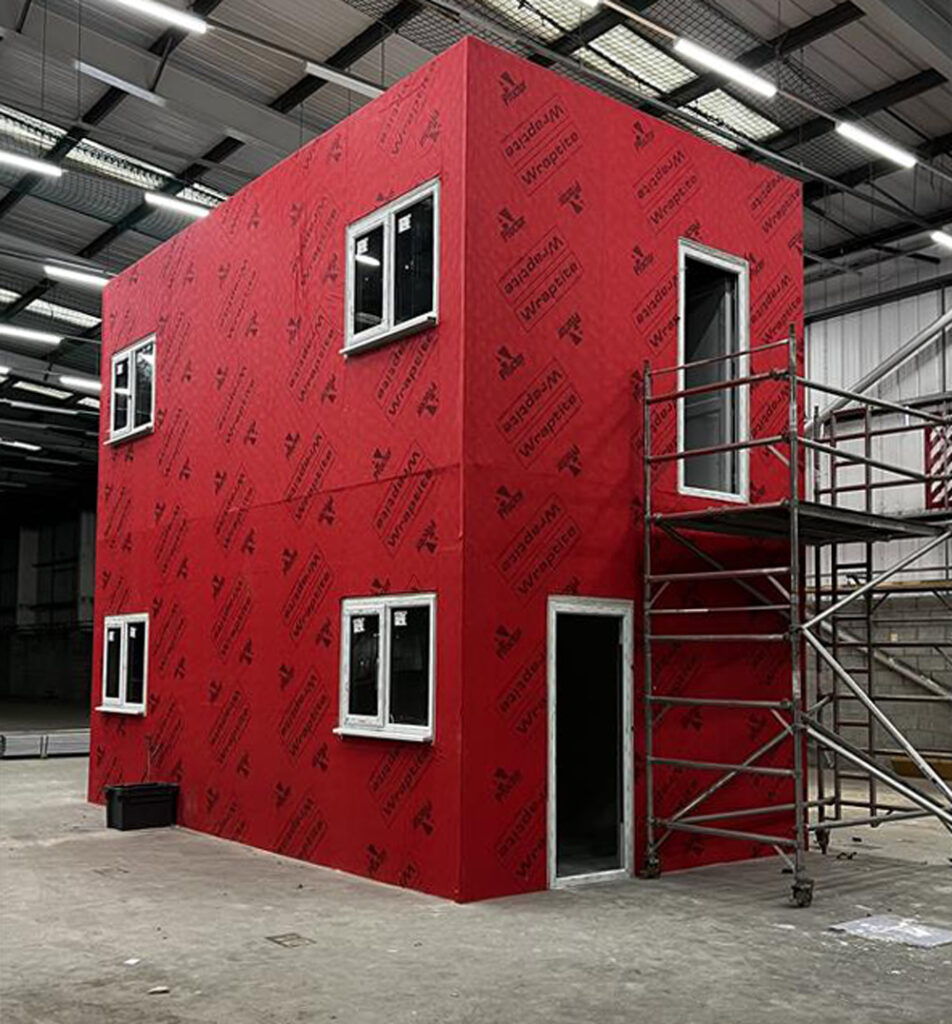 HadleyFRAME is more than a pre-panelised system. The earlier in your journey you discuss your project with our team, the more solutions we can come up with together to achieve your project aims. The team can support you with the expertise in steel framing so that your project gets the most from offsite pre-panelised MMC, of the wider solutions HadleyFRAME offer, and that your project is as efficient and sustainable as possible.
The project below was designed by
PF + A Architecture
in conjunction with construction company JMEC and resulted in a second project with both companies.
What can you build with offsite pre-panelised steel framing?
"Building in Hadley is the future for JMEC, I don't know why anyone would use anything else."
Building with Hadley is much faster and more reliable than traditional construction. We don't have to manage multiple tradesmen on site, no more chasing bricklayers, no more delays from poor weather. Duhamel Lane was a head scratcher at first due to the awkward site, but when we got Hadley involved after seeing their work in Derby, they far exceeded our expectations on delivery. We have another project underway, Ingouville House, and all 6 storeys were erected on time in just 6 weeks.
One of the things I value most from the Hadley team is their attitude. There is always a solution. And it never starts with the sharp intake of breath, chin scratching and 'that will cost you' standard contractor response. They usually come back with options too and consider the wider project aims from the outset so we are always focused on the same goal.
What did we build with JMEC?
The Fold, Duhamel Lane, St Helier.
Designed with an asymmetrical sloping mansard roof and terrace, this block of 3 apartments nestles into a tight infill site in the quiet back streets of the capital.
The finished building blends in with the traditional neighbours, while utlising modern elements in the façade that give a hint to the luxury apartments within.
Interested in our work on the island of Jersey?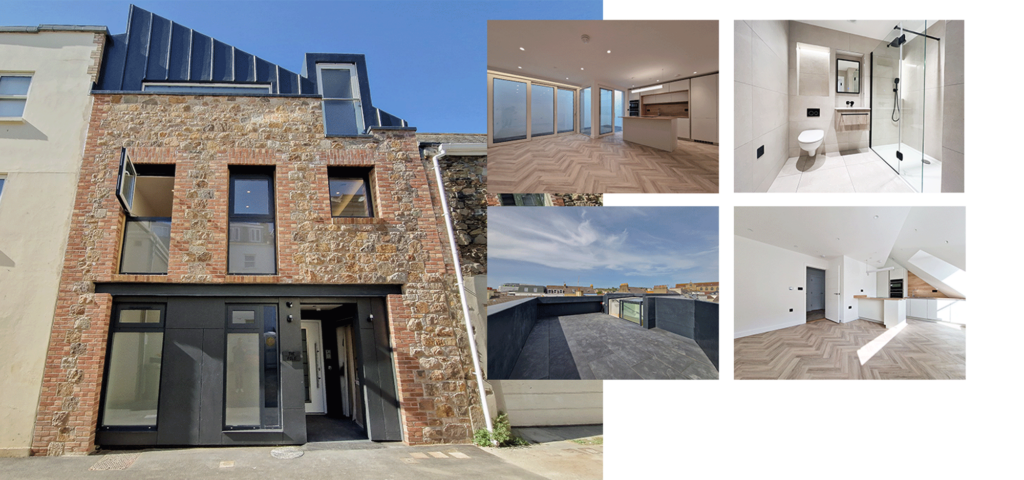 Read the full case study offline
The site was logistically challenging due to the limited access and high traffic volume to neighbouring properties. With significant restriction on lay-down space, there was tight control over delivery sequences to avoid overloading the site while remaining on target to achieve program.
Working with Simply UK, the HadleyFRAME team recently topped out on a 3 storey care home in Hatfield, Hertfordshire. The scheme will produce 81 beds with an overall internal floor area of 4399m2. The programme duration for the steel framing was 15 weeks (excluding wind delays).
MMC System details
Read the specifics of the HadleyFRAME pre-panelised light gauge steel frame system to see how it can work with your project.