100TH ANNIVERSARY FOR ROLLFORMING EXPERT OVEREEM
This year we celebrate our 100th anniversary. A very special milestone for our company.
In this article we would like to tell you more about our past and the innovative character of Overeem. First of all, we would like to thank our highly valued team, former colleagues and loyal customers for their contribution to Overeem over the past 100 years!
Together we have always been looking for the boundaries of technological possibilities and have successfully pushed them. And we will continue to do so. Because that is an important part of Overeem's culture.
Read more about our beautiful history below.
The founding of Overeem in 1922
It has been 100 years since Jan Overeem crafted the first products in his workshop in Scherpenzeel. Starting out as a smith in 1922, Overeem began making horseshoes, cartwheel rims and stove parts. In the years that followed, Overeem specialized more and more in roll forming and the interest and need from the various markets also increased rapidly. For example, Overeem currently produces customer-specific roll-form profiles for interior parts and sunroofs for cars, lighting fixtures, solar systems, partition walls and many other applications.
From horseshoes to BMW
It is interesting to see that Overeem has always been closely involved in mobility products. It all started with horseshoes for horses and cartwheel hoops. However, the first profile machine was purchased for the production of chain guards for bicycles and moldings for mopeds. Overeem's expansion really took place when we further specialized in high-quality roll forming techniques and became an interesting player for the automotive industry. This gave us more and more international attention and to this day we work from Ede for almost all major car brands in the world.
Overeem's successful delivery to a global audience fueled our reputation as a high quality and reliable supplier of cold rolled profiles. We now supply the solar, retail, industrial and agricultural markets with custom made and durable metal profiles that meet exacting tolerances.
High-level knowledge of roll forming
'Continuous technological developments are our core focus. Our expertise in roll forming is now so great that we are a renowned supplier in Europe. This is particularly the case in the field of complex roll-formed profiles with strict visual requirements and integrated processing in different metal types. In our Technology Centre — the largest in the world — we work to further optimize the technology every day. This is incredibly appealing to our customers. Because in this way, we can offer even more to our customers'. Eric Mulder — Commercial Director of Hadley Custom Rollform Division.
A number of owners throughout the years
Overeem was once based in a small smithy with a shed on the Dorpsstraat street in Scherpenzeel. However, the company now has a large and very modern complex on the 'De Kievitsmeent' industrial estate in Ede. In 1988, Overeem ceased to exist as a family business. From 1988 to 2015, we were part of the listed Aalberts Industries NV.
On 1 December 2015, Overeem became part of the Hadley Group. The Hadley Group is the UK's largest producer of cold-rolled metal components and profiles and has an excellent international reputation. 'Hadley's acquisition of Overeem was a strategic choice. Hadley is one of the largest roll forming producers worldwide with an extremely high level of technological knowledge. Overeem is a true specialist in the field of complex and thin-walled profiles as well as the automotive industry. This means we are entirely complementary to each other and have already learned a lot from each other. We apply this knowledge globally, because Hadley Group has branches all over the world'. James Bishop – Hadley Rollforming Business Unit Director.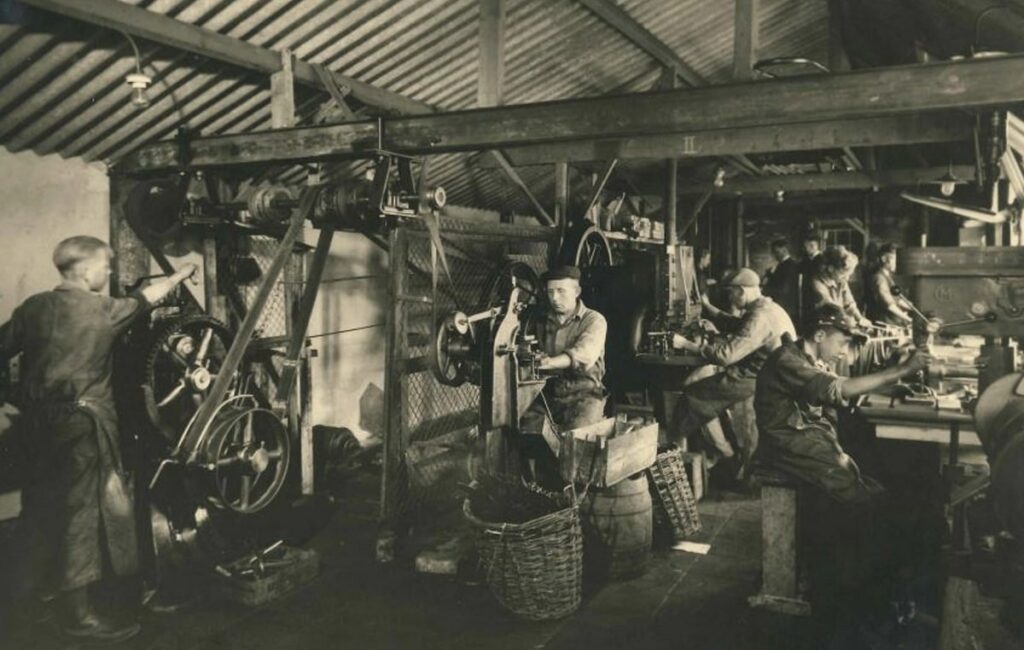 Push technological and physical boundaries
This month we proudly celebrate Overeem's 100th anniversary, but we are also busy with future developments. In 2023 we will further expand our capacity in Ede with two new roll forming lines and a fully automated deburring machine.
But we also remain innovative in the field of global collaboration. Colleagues from all our locations worldwide work closely together. Using new headsets with cameras, colleagues around the world support each other in setting up new production lines or discussing challenges.
In this way, we continue to work on innovation, sustainability and pushing technological and physical boundaries when it comes to roll forming.