Building a new four-story apartment block with ground floor commercial space.
Jersey construction specialists
JMEC
needed an offsite construction system to help them build a brand-new apartment block — a 4-storey steel frame building in the heart of St Helier with a striking modern design.
But this modern design came with its own distinct challenge: a sloping mansard roof with an asymmetrical shape.
Our team of designers and engineers worked closely with the architect from an early stage, refining the design of the sloping roof to fit the pre-panelised HadleyFRAME system that JMEC had chosen. With our modified design in place, JMEC was able to commit to the modern methods of construction they needed — while preserving the eye-catching silhouette that gives the apartment block its unique charm.
JMEC Ltd is a leading construction company on the island of Jersey, and a member of the Jersey Construction Council.
After visiting one of our sites in Derby (along with industry suppliers, Normans of Jersey), JMEC fell in love with the HadleyFRAME — a pre-panelised system of light-gauge steel framing designed for steel frame buildings where construction sites are tight.
With limited space and connected neighbouring buildings, this new apartment block was the perfect fit for our HadleyFRAME system. By delivering load-bearing steel wall panels to the site on a just-in-time schedule, we will be able to minimise the storage and laydown space they need, helping JMEC to make the most of the restricted space at the site.
Our teams continue to work with the building's architect, helping them to overcome the boundary wall issues of the limited site — as well as adding improvements to the design to make the building more efficient.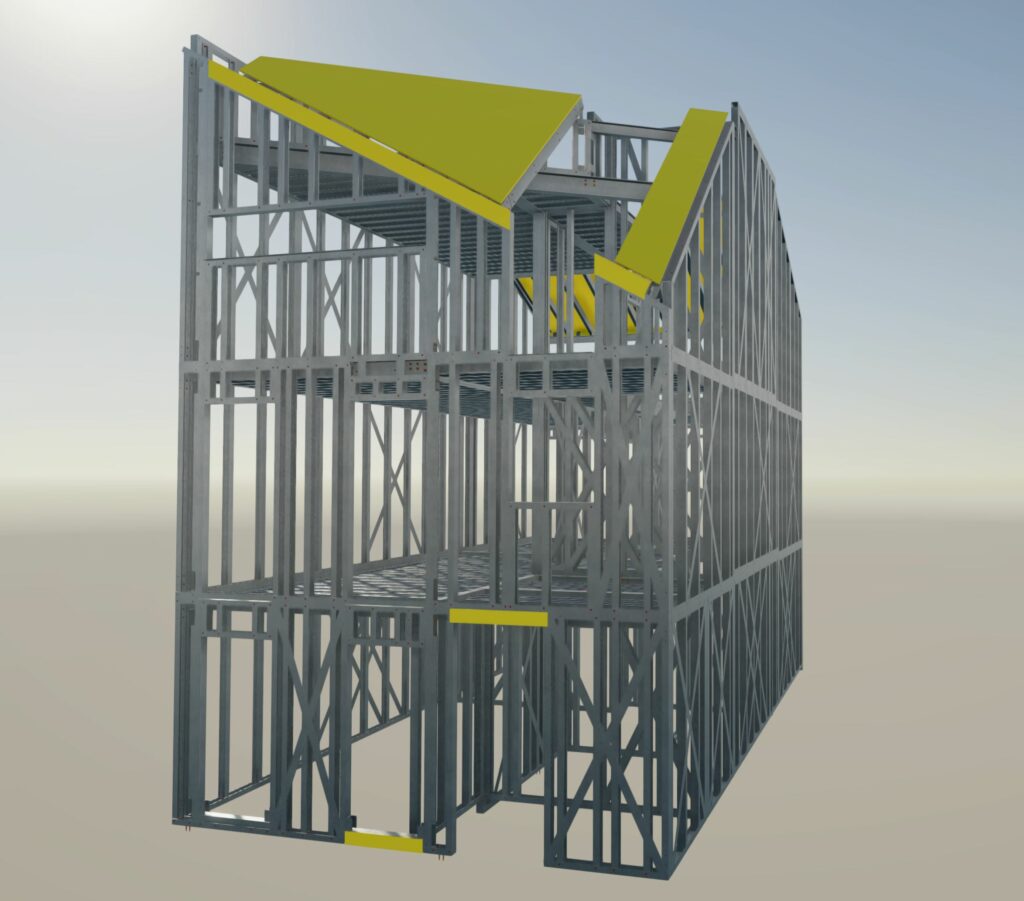 Looking for help from an MMC expert?
If you're working on a project that needs modern methods of construction, we're here to help.
We've got over 25 years of innovation behind us, with the specialist teams and patented technologies you need to get the best results for your construction project.

The sooner we connect, the more time and money we can help you save — talk to one of our HadleyFRAME experts to find out more.

Working with Simply UK, the HadleyFRAME team recently topped out on a 3 storey care home in Hatfield, Hertfordshire. The scheme will produce 81 beds with an overall internal floor area of 4399m2. The programme duration for the steel framing was 15 weeks (excluding wind delays).
The site was logistically challenging due to the limited access and high traffic volume to neighboring properties. With significant restriction on lay-down space, there was tight control over delivery sequences to avoid overloading the site while remaining on target to achieve programme.
MMC System details
Read the specifics of the HadleyFRAME pre-panelised light gauge steel frame system to see how it can work with your project.