Steel Frame solutions, value engineered to your requirements.
The big question is usually, Is your project suitable for steel framing? There are few jobs that are not, but the important question for us is which is the right solution.

The sooner your talk to our experts, the sooner we can advise you on the right solution or solutions for your design, your site, your budget and your aims. Each project has different aspirations.
You may benefit from value engineering to ensure you have the best solution to suit your budget.
We could focus on the programme and reducing disruption to the local community.
Energy performance can be improved through a number of options and our system is tested with the leading insulation brands.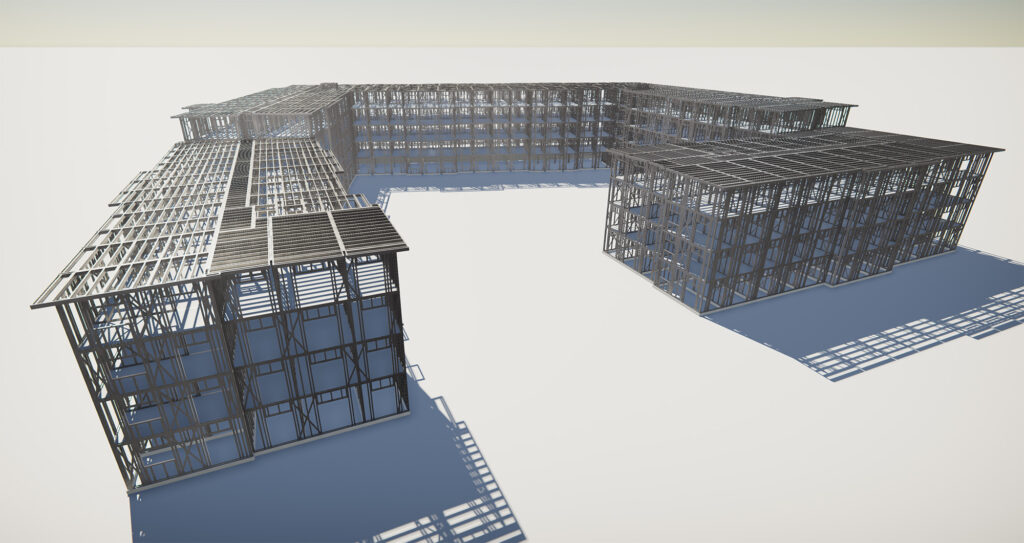 Using Steel Framing in your design
Steel frame buildings can be built on a spectrum of Pre-Manufactured Value (PMV). Hadley Structural Division offer the full range, from stick-built SFS, pre-panelised offsite to fully modular solutions.
The variety of projects in Jersey is an excellent example of the flexibility of steel framing. We have 8 projects on the island, from a large 127-apartment project to a 3-apartment compact site.
Project Examples
Now you know we have the best in industry accreditations, PI, warranty and third part testing, have a look at the range of projects we are delivering.
Duhamel Place
Another PAGE Architects project, the project will be delivered in stick-build form to avoid traffic disruption.
Read more
Our Steel Framing
Skip to the details of the HadleyFRAME system to find out how LGSF will support your project design.
Skip to the System
Looking for a faster way to build at scale?
Through our pre-panelised HadleyFRAME system, we've helped multiple construction projects on their way to a timely completion. And if you're in the business of steel frame buildings, we can help you too.

Get in touch and we'll help you find exactly what you need.