Lichfield Retirement Living Apartments
Considerate INNER City MMC
The Lichfield's Bonds retirement living development for Pegasus Life is in the heart of a vibrant cathedral city. Constructing three apartment blocks on the compact site, nestled against local residents and businesses, required a considerate program design.
This was a key driver for them and their client, ensuring that traffic was not disrupted and the project was a positive contribution to the city. Using the HadleyFRAME system allowed the main constructor, Gr8 Space, to deliver the project with minimal impact to the neighbourhood.
The offsite MMC solution, category 2 in the Government's MMC Framework, delivers factory manufactured load-bearing wall panels to the site, requiring minimal laydown space as it is delivered to a just in time schedule.
Performance & Weatherproofing
The efficiency of the system is significantly enhanced by the use of Wraptite, a self-adhesive permeable membrane from Proctor Group. The Wraptite membrane is installed to improve the air tightness and building performance and the test results have achieved 1.24m3/hr/m2. 
The membrane is applied in the factory under controlled conditions for higher quality control and to reduce on site activity. In addition to the enhanced air tightness performance, it provides a valuable weatherproofing that allows follow on trades to start work much sooner.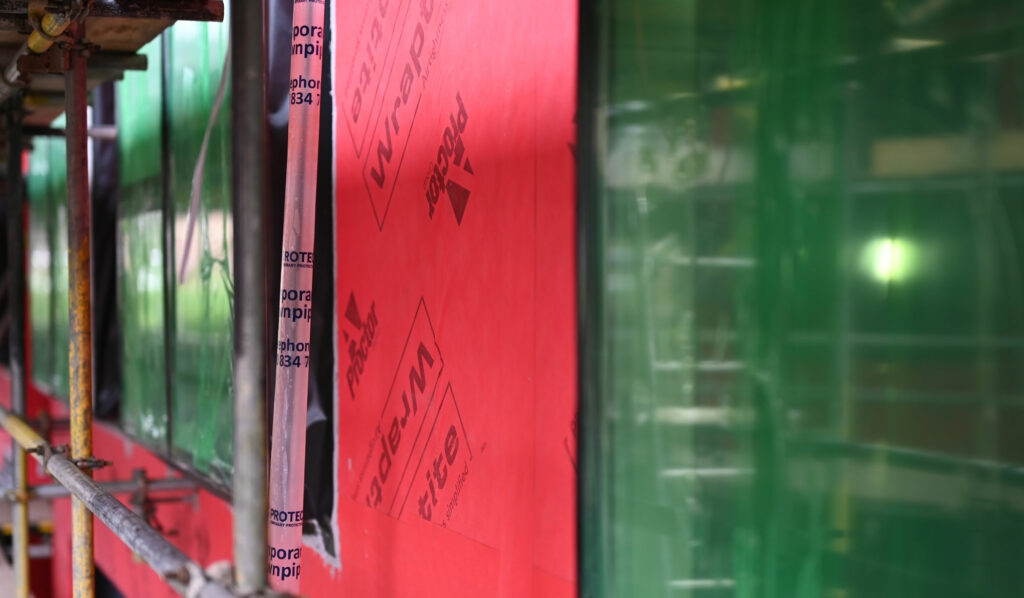 Deliveries are offloaded quickly from a standard load on an unescorted lorry, removing the need for road closures or parking controls.  
Being sympathetic to the local community was a key driver not just during construction, but in the design of the building. While the pre-panelised solution facilitated a speedy delivery, the architectural design reflects the history of the area and reflects the traditional roof styles and external aesthetics.

This modern building will sit comfortably in the neighbourhood, offering residents a peaceful, efficient living space in the heart of a thriving community.
Looking for help from an MMC expert?
If you're working on a project that needs modern methods of construction, we're here to help.
With over 25 years of innovation behind us, the sooner we connect, the more time and money we can help you save — talk to one of our HadleyFRAME experts to find out more.
MMC System details
Read the specifics of the HadleyFRAME pre-panelised light gauge steel frame system to see how it can work with your project.
Working with Simply UK, the HadleyFRAME team recently topped out on a 3 storey care home in Hatfield, Hertfordshire. The scheme will produce 81 beds with an overall internal floor area of 4399m2. The programme duration for the steel framing was 15 weeks (excluding wind delays).
The site was logistically challenging due to the limited access and high traffic volume to neighboring properties. With significant restriction on lay-down space, there was tight control over delivery sequences to avoid overloading the site while remaining on target to achieve programme.