Nightingale Quarter, Derby

HadleyFRAME: Solutions beyond the superstructure
800 homes on an 18 acre site, The Nightingale Quarter from Wavensmere Homes allows residents to enjoy the city centre from the parkland environment.

Of those 800 homes are three separate residential apartment blocks built using modern methods of construction (MMC). Using MMC gives Wavensmere Homes the peace of mind that the super structure will be erected on time and to a pre-fixed cost, the two key elements to any successful program.
Matt Brighton, Commercial Director for Wavensmere said, "We started out with the first phase, working with Hadley on Block A. The success of that phase has led on to the delivery of Blocks B and E as we move towards completing the 800 homes on the site.

One of the standout strengths of the relationship with Hadley is the collaboration and willingness to adapt their ways of working. The HadleyFRAME team were immediately receptive to our request for our roofing subcontractors to apply the first membrane to the roof panels in their factory. Adding this step to the Hadley program meant the roofers could work in factory conditions, allowing us to achieve weather proofing quicker and advance our program. It is a pleasure to work with an organisation eager to develop their processes to deliver an advanced service and we look forward to working with them again on future projects."

The load-bearing steel panels are built offsite, delivered on a timed program, installed with composite decking, concrete and joisted cassettes. The HadleyFRAME system is ideally suited to tight sites and inner city locations due to the small amount of laydown space required. As the system is built, upper floor levels are used to store materials with frequent timely deliveries keeping sites clear.

With nearly 30,000 sqm across the three blocks, reaching 7 floors, this has been an incredible project to build in HadleyFRAME. The project is ongoing and so far we are 10 days ahead of schedule, despite weather delays early in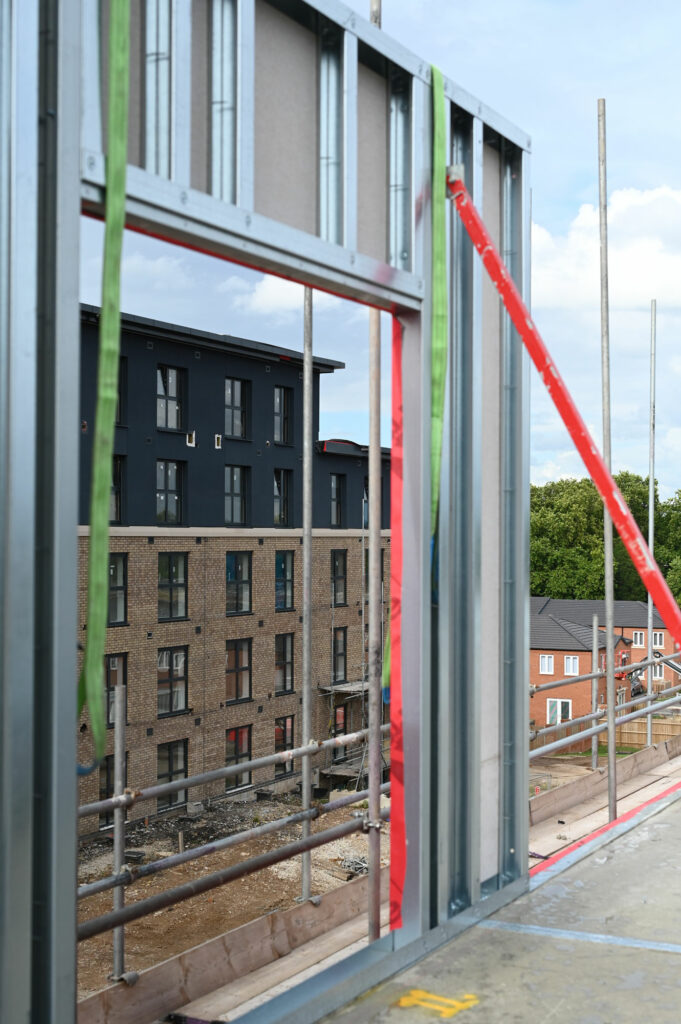 Want to know more about MMC?
Do you have a project that might be suited to modern methods of construction? Talk to the HadleyFRAME experts today, the earlier you involve our technical team, the more time and cost savings we can help you make.
Working with Simply UK, the HadleyFRAME team recently topped out on a 3 storey care home in Hatfield, Hertfordshire. The scheme will produce 81 beds with an overall internal floor area of 4399m2. The programme duration for the steel framing was 15 weeks (excluding wind delays).
The site was logistically challenging due to the limited access and high traffic volume to neighboring properties. With significant restriction on lay-down space, there was tight control over delivery sequences to avoid overloading the site while remaining on target to achieve programme.
MMC System details
Read the specifics of the HadleyFRAME pre-panelised light gauge steel frame system to see how it can work with your project.