Systems Based Solution
Through Hadley, you can select a drylining system designed to meet a wide range of performance requirements.  
Peace of Mind Performance
All Hadley Drylining systems comply with fire, acoustic and thermal regulations (as per the latest building regulations) and Independent UKAS accredited laboratories have been used to validate the performance of the Hadley systems – Fire rating in accordance with BS476 Part 22:1987; Acoustic rating in accordance with BS EN ISO 717-1: 1997; and Duty rating in accordance with BS5234:1992 Part 1 and Part 2. 
Working with Hadley's in-house technical design experts, you'll be given full support using the team's extensive knowledge of the construction industry and drylining applications – along with a full specification detailing fire and acoustic test data and acoustic calculations helping you get the solutions you need – all fully backed by our HadleySpec Performance Warranty.
Partition strengths are calculated using bespoke SCI created software
All fire and acoustic test data is completed by leading UKAS accredited test laboratories giving peace of mind on regulation compliance
Our fire promise means we will never specify a fire rating on a system without the backing of a third party test
provided with the best solution to meet the technical and commercial requirements of your project
Our technical support team gathers together knowledge from different sectors of the construction industry to provide the best advice for your project, not just your system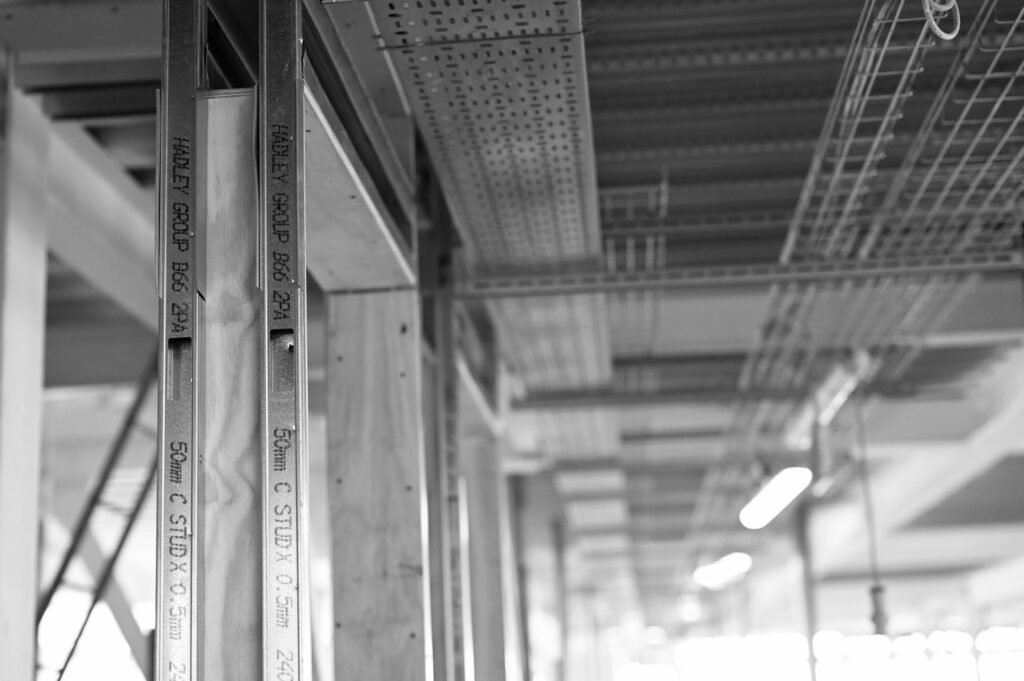 Working closely with the Hadley technical support experts, you and your project design team will get the right system to match your project and regulatory requirements – with the reassurance of the HadleySpec Performance Warranty.
You can select a system from the range below or use our system selector to filter based on your project requirements, such as height, thickness or performance.
LINK TO SYSTEM
System Description
HadleySOLO
Single C Stud partition
A versatile and robust system that covers a wide range of solutions
HadleySTAGGER
Staggered I stud partition
Providing a robust solution where enhanced acoustics, solid fire performance and additional security are required, but where space is at a premium
HadleyHUSH
Single C resilient bar partition
A great solution where greater acoustics and solid fire performance are required, but where space is at a premium
HadleyBRACE
Twin braced C stud partition
The perfect solution for gaining increased acoustics and fire performance, and where higher span heights are a must
HadleyDUO
Twin I stud partition
The ultimate acoustic solution where premium acoustic and fire performance is required
HadleySHAFT
Shaftwall
The best solution for enclosing shafts with bi-directional fire compartmentation performance
HadleySHEILD
Wall liner
If you are looking for a good boost on acoustics or an aesthetic upgrade to an existing wall or RC column where space is limited this is your system
HadleyLINE
Independent T I stud lining
If you need a jump on acoustics or an aesthetic upgrade to an existing wall, RC column or just dead space this is your option
HadleyMF
Metal suspended ceiling
The traditional method to hide all your services and help create a clean, white, box.
– contact our team for more information.
If you have design or performance challenges you're looking to overcome, the Hadley technical team are on hand to support you throughout your project. Helping you overcome your on-site challenges, the team can review existing packages to tailor a solution that could save time and money. This can be achieved by providing an in-depth K10 specification and easy-to-read, detailed drawings that can be followed for installation on-site. You can rely on their expert knowledge and advice to ensure you get the best solution for your application – including residential, healthcare, commercial and small to midrise accommodation.
Hadley manufacture a range of light gauge, non-load-bearing cold roll formed metal products to complete your project. As well as partitioning, drylining and ceiling systems, you can select individual components such as angles and channels to complete your Hadley system.
Our experts are here to help you
Your project will be fully supported, from inception to completion, via our in-house team of experts who are available to you through the technical support phone number, email, webchat or Teams.