Metal vineyard posts
Our high-quality, professional metal vineyard posts are available in different lengths and strengths to suit all applications and can be powder-coated, pre-galvanised or chromed in a range of colours.
Vineyard posts of the highest quality thanks to UltraSTEEL®
Our internationally patented UltraSTEEL® process is a key factor for the high quality of our metal vineyard posts. UltraSTEEL® is a cold-rolling process that takes place before the flat steel is rolled into the shape of a vine post. The steel is formed between mating rolls, which produce a dimpled pattern across the surface of the material.
During the process, the effective thickness of the material is increased by up to twice its original gauge. This is caused by a deformation process known as work hardening which increases the yield strength of the material. The result is an environmentally friendly product with greater load carrying capacity, increased surface area for better grip, improved memory and spring tension, plus up to 30% less deformation.
As a result, our vineyard posts outperform traditional wooden vineyard posts or alternative vineyard steel posts in a number of areas:
Reduced weight and resource consumption while improving performance;
High rigidity for exceptional load carrying capacity;
Increased stability: the dimpled surface increases the surface area by an impressive 22%, allowing the vineyard post to come into contact with more soil;
Extreme flexibility: the pole can be rotated 180˚ and then spring back to its original position without deformation;
7cm tag pitch and a tag strong enough to withstand machinery impact;
Disease resistant steel product means healthier crops;
Durable and low maintenance;
Long service and less material for a more environmentally friendly product;
Cost-efficient: improved mechanical properties of the vineyard pole without the need for additional material, providing exceptional value for money.
Custom designed vineyard posts
Thanks to a our world-class roll forming capabilities and extensive product development, our steel vineyard stakes meet the specific needs of vineyard owners around the world. We are also able to design and manufacture bespoke vineyard posts. We develop prototypes in our own factory and produce them in large quantities once approved. We also manufacture and supply end posts and nursery posts for young vines, all manufactured to the same high quality standards to ensure longevity.
Our vineyard posts are available for all applications in various lengths and strengths. Are you looking for galvanised steel vineyard posts? No problem. Our vineyard posts can be galvanised, chromed and powder coated.
Roll Forming
We can ensure high-quality vineposts due to our roll forming expertise.
Find our more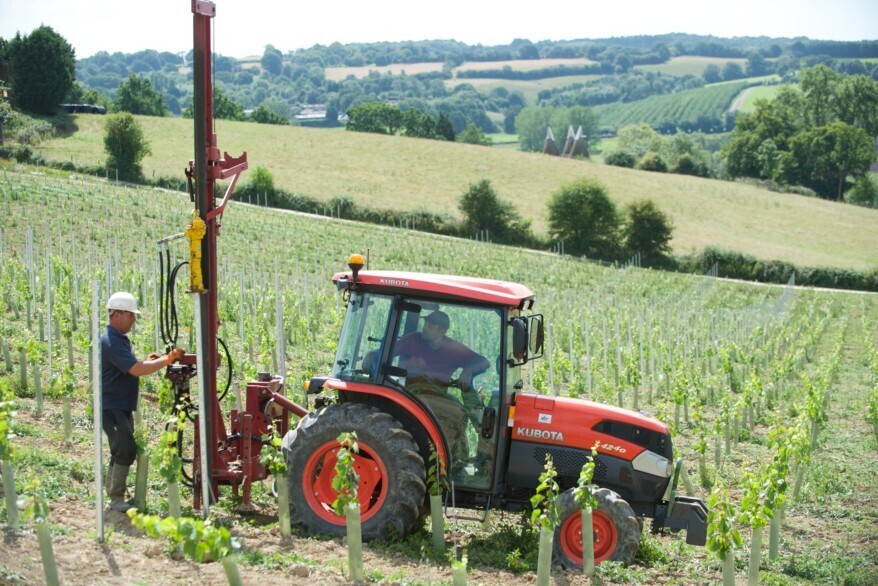 Vine Care (in the United Kingdom) is a company that provides a comprehensive service to wine and fruit growers in the UK. The company, founded by Paul Woodrow-Hill, offers growers a complete package, from advice and planning a vineyard through to planting, caring and picking; including the supply and installation of trellises. To this comprehensive offering, Paul has added Hadley Group's metal vineyard posts. Paul Woodrow Hill on the vineyard posts:
"I've always admired the finish and the look of the Hadley post from day one and was delighted to hear that, in strength tests conducted in Germany, it came out on top against other established manufacturers that had been producing metal vineyard posts for years. The patented ultra steel process increases the strength of the posts and enables a greater uptake of galvanising material, making it more robust against the elements".
Vine Care installed posts on a ten-acre site for the 'Four Boys Vineyard' in East Sussex. It was all completed successfully and the customer is very pleased with the result.
Would you like more information or do you have any questions about Hadley Group's metal vineyard posts? Don't hesitate to contact us.
Contact us!