HadleySHAFT
Shaftwall: The best solution for enclosing shafts with bi-directional fire compartmentation performance 
HadleySHAFT shaftwall gives you options for building a fire rated partition when you only have access to build from one side. Primarily used around risers and lift shafts, HadleySHAFT is built using Hadley I Studs with the inner layer lined using a suitable 19mm Coreboard, secured in place using Hadley Shaft Core Angle Brackets.
Peace of mind performance
Third party accredited tested to relevant British and European Standards
Fully CE marked
Ability to specify using any of the top three plasterboard manufacturers
Full technical support including full K10 specifications, site queries, and value engineering solutions.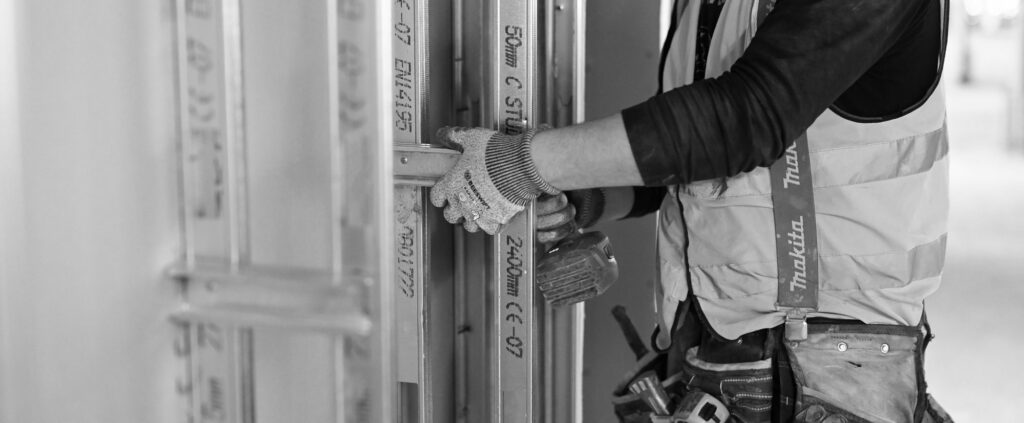 | KEY INFORMATION | |
| --- | --- |
| ACOUSTIC | 38 dB Rw – 47 dB Rw |
| FIRE | 30:30 minutes – 120:120 minutes |
| MAX HEIGHT | 3800mm – 7900mm |
| OVERALL WIDTH | 64.5mm – 178mm |
Hadley I Stud (size to suit specification)
Hadley Track (size to suit specification)
Hadley Shaft core angle bracket
19mm Coreboard e F Plasterboard (approved 3rd party component – to suit specification)
Insulation (approved 3rd party component – to suit specification)
Fixings
Intumescent and acoustic sealant
Hadley Angle (if required)
Materials for taping and jointing
SPEC
Download the Standard Details Document pack
DOWNLOAD
Our experts are here to help you
If you have design or performance challenges you're looking to overcome, the Hadley technical team are on hand to support you throughout your project.